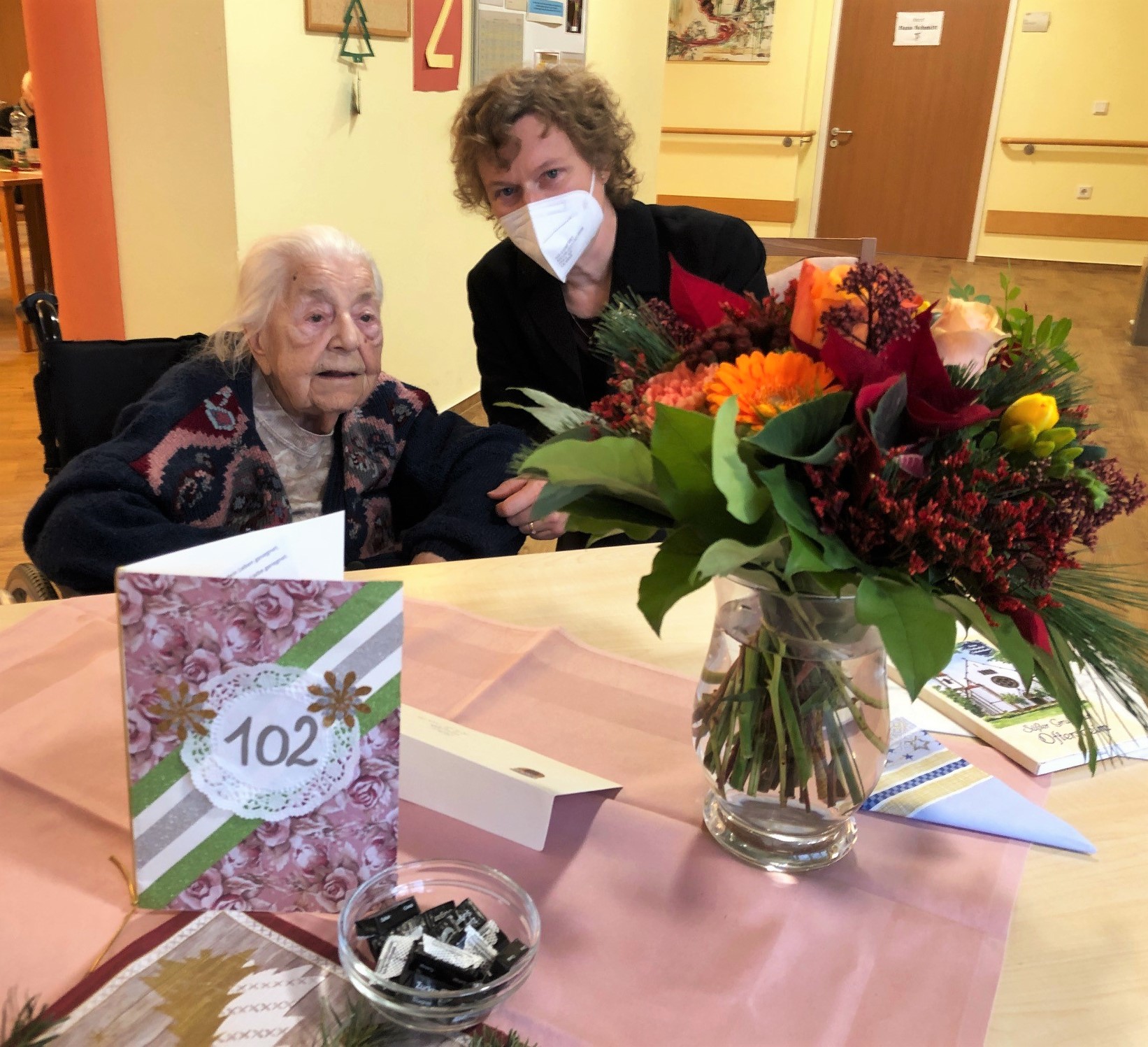 102 years old - a great birthday
Mayor Jens Geiß also attends the celebration at ASB-Samariterhaus Oftersheim.
102 years - that is a proud number and an impressive age. This makes Elisabeth Pfeffer one of the oldest citizens in Oftersheim, and she is also the oldest resident at ASB-Samariterhaus. Mayor Jens Geiß comes by on her day of honor with flowers and a certificate and congratulates the senior citizen on behalf of the town. The two quickly got to talking. Elisabeth is one of the community's oldest members, having been born in Oftersheim 102 years ago. Many people remember her fondly as a master tailor in her home town. "She sewed or altered clothes for many Oftersheimers over decades," says her great-niece Christiane Lepold. Elisabeth grew up as the nestling with three siblings, "little Lisabeth" was always spoiled as the smallest, the grandniece reports. The senior citizen lived with her for a long time until she moved to ASBSamariterhaus in 2013.
Security and delicious food
 Elisabeth feels comfortable in the nursing home. She says that she is very well looked after and that the food is delicious. The old lady attaches great importance to her hair. "She is combed every day and gets a nice hairstyle," laughs the grandniece. The only downer: with the outbreak of the Corona pandemic, visits have become fewer and fewer. "She's already suffering from that," says Christiane Lepold. The senior citizen, who is popular in Oftersheim, used to get a lot of visitors. Now it's mainly the grandniece who comes by regularly.
Making visits possible - especially during the Christmas season
Especially during the Christmas season, it is important to make visits possible despite Corona. "Isolation of our residents would be almost inhumane," says Schmid, "contact with relatives and friends is crucial for psychological well-being." 
Since mid-November, the Corona Taskforce has been back in action at all ASB Mannheim/Neckar Region facilities. So far, 23 testers have been temporarily employed. This is primarily intended to relieve the nursing staff in the five ASB homes for the elderly. "We have taken quick and preventive measures," says Fabian Kaspar, head of the Corona Taskforce, "so that we are prepared for the new pandemic decrees from the federal and state governments and can react accordingly." In all facilities, people who enter an ASB senior center are tested, regardless of their vaccination status. Testing stations have been set up on site for this purpose and are staffed from 1 p.m. to 5 p.m. each day. In addition, as of December 20, non-immunized visitors must present a valid PCR test, which must not be older than 48 hours.
ASB Mannheim/Rhein-Neckar operates five senior citizens' homes, three of which are in the Rhine-Neckar district and two in Heidelberg, as well as a senior citizens' advisory service and offers for outpatient care services, day care and assisted living. In the facility "ASB-Samariterhaus Oftersheim " 74 places for a full stationary care are available, in addition there is a protected range for dementia patients. The four residential groups each offer spacious lounge areas as well as dining areas with an open kitchen. Currently, ASB Mannheim/Rhine-Neckar Region in Oftersheim employs 73 staff. The home was opened in September 2008. fek