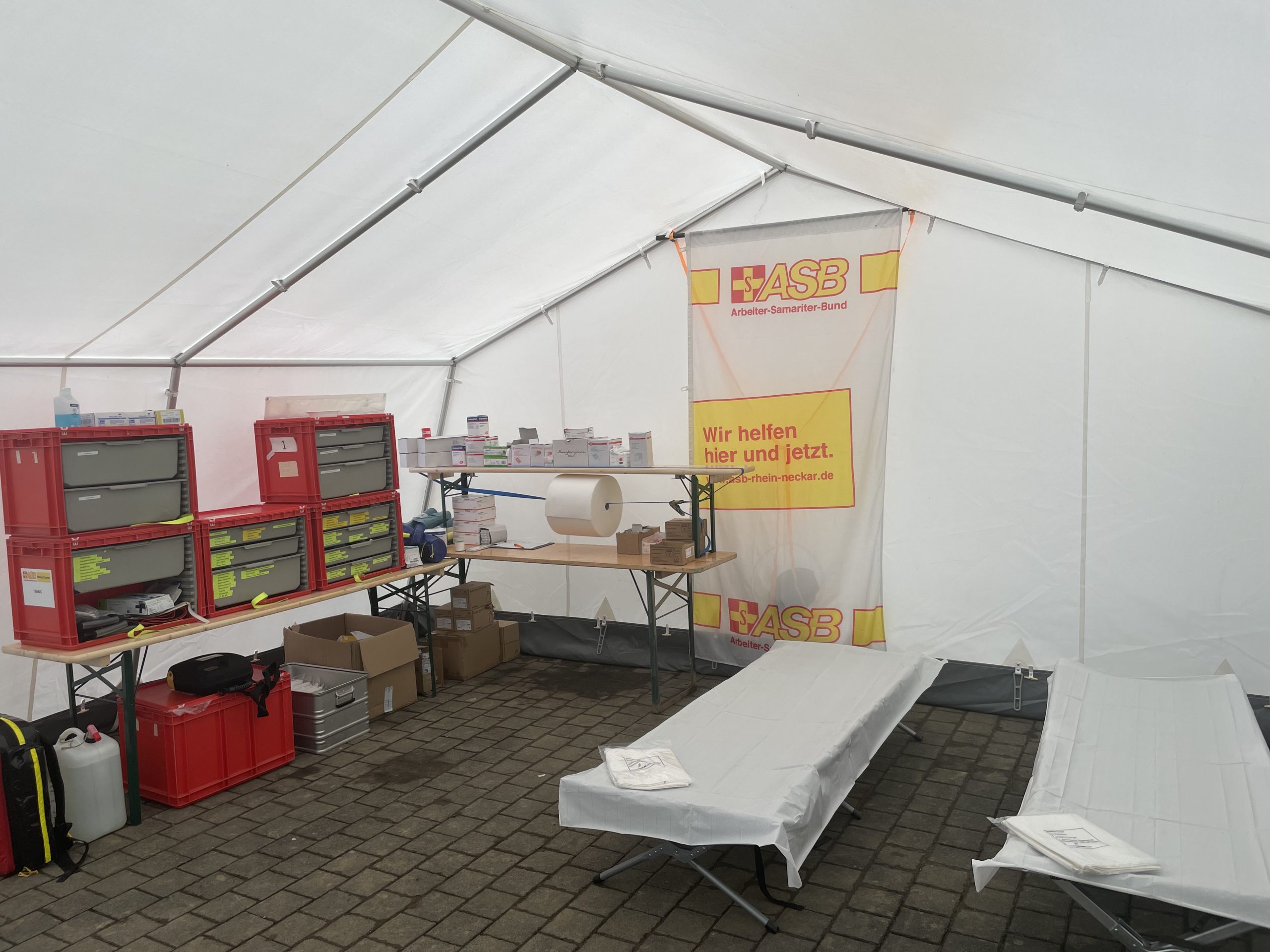 ASB Mannheim in action in the district of Ahrweiler.
Unit takes over accident assistance center in Mayschoß.
(Mannheim, 24.08.21) The ASB Mannheim/Rhine-Neckar Region supports the rescue forces in Mayschoß in the district of Ahrweiler. The first contingent left on Sunday, 22.08. from the rescue station in Mannheim-Käfertal. On site, the unit took over the accident assistance center there. It serves as the first point of contact for the medical care of the population, the helpers and the emergency forces. The Medical Center that was taken along has sufficient medical material to guarantee comprehensive first aid for the people on site. "Ensuring the medical service in Mayschoß is an important concern," said Johannes Kattermann, head of operational services at ASB Mannheim/Rhine-Neckar Region. He added that it is now a matter of maintaining population protection in the longer term after the immediate disaster relief. "That's where we have to ensure stability," Kattermann said. The cleanup there will probably continue for months.
Contingent on site starts work
Under the direction of Andreas Kudak, the ASB began work on site on Monday morning. Four paramedics are on duty at a time, all of whom are volunteers. The situation in Mayschoß is still tense, he reports, and the evacuation work is in full swing. The gratitude of the population is great. The small town in the district of Ahrweiler was hit hard by the floods. Mayschoß was cut off from the outside world for ten days because the federal highway was swept away by the flood. In the meantime, according to the rescue forces, there are two connecting roads again. On Wednesday, a second contingent will start from Mannheim to Mayschoß to relieve the emergency forces. A total of four people will always be on site. How long the operation in Mayschoß will last in total is still uncertain. The ASB Mannheim/Rhine-Neckar Region assumes at least 2 weeks. ASB Mannheim was commissioned by the Baden-Württemberg state association. fek