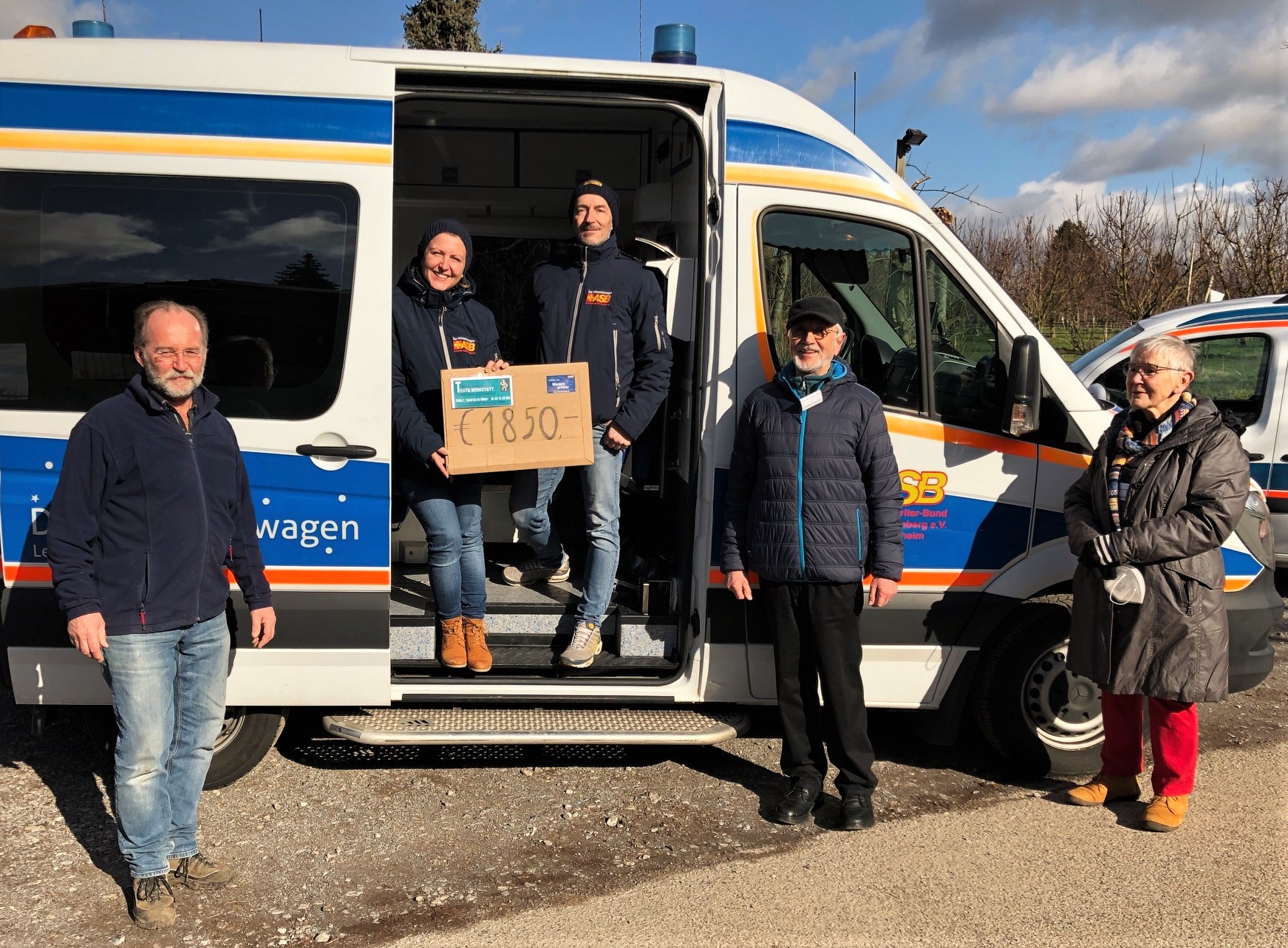 Donation campaign of the textile workshop in Pfinztal
On the road with the ASB Wünschewagen - met many people
(Mannheim 07.02.2022) The beautiful Pfinztal near Karlsruhe shows its best side: Sunshine on the market in Berghausen; here the team of the Wünschewagen meets the couple Theune. Traudel and Friedbert have collected donations for the nationwide project of the ASB with their initiative Repair and Textile Workshop Pfinztal. For years, the initiative has supported charitable institutions. They sew and print colorful fabric bags, for example, which they hand out for a donation at the market or in stores and pharmacies. For the Wünschewagen , after all, just under 2,000 euros have been collected. "We are very happy about such initiatives that support our project," says Tina Schönleber, the coordinator of Wünschewagen for Baden. "Here you can simply feel how much heart and soul people put into it."
Ride through the communities in the Pfinztal
Wherever the big and the small Wünschewagen stop, people come by to find out about the project. Of course, they are also allowed to take a look at the car from the inside. "Many of our guests are already so weakened that we can only drive them lying down," explains Tina Schönleber. She reports on many trips that the Wünschewagen has already taken. For example, of a three-year-old girl who wanted to meet all the princesses in Disneyland Paris. Of people who want to visit their favorite place once again, take part in a big family celebration or go to the water once more. The Wünschewagen stationed in Mannheim is responsible for the whole of Baden and therefore also often travels to Karlsruhe. On its journey through the Pfinz Valley, the Wünschewagen stops at the market in Berghausen, at the Luhmann toy store, at the Sonnen-Apotheke pharmacy and at the Wenz fruit farm. The joy about the visit is great everywhere.
Initiative repair and textile workshop active for years
The textile workshop is a project of the senior citizens' council in Pfinztal. Later, the repair initiative was added. "We have already repaired over 100 sewing machines," Friedbert Theune reports proudly. "We want to set an example against the throwaway society," adds Traudel Theune, "and at the same time support good projects with the donations." Around 30 people now work at the textile workshop. It's an honorary position that does a lot of good.
Wünschewagen - a nationwide project of the ASB
Meanwhile, 23 Wünschewagen are on the road throughout Germany to fulfill a special wish for seriously ill people in their final phase of life. The project was launched five years ago and is financed exclusively by donations. The journey is free of charge for the guest, and volunteer helpers support the journeys. The Wünschewagen for Baden has been rolling along the streets since September 2016, fulfilling last wishes of the heart. The coordinator of the project is Tina Schönleber. She can be reached at wuenschewagen@asb-rhein-neckar.de. fek