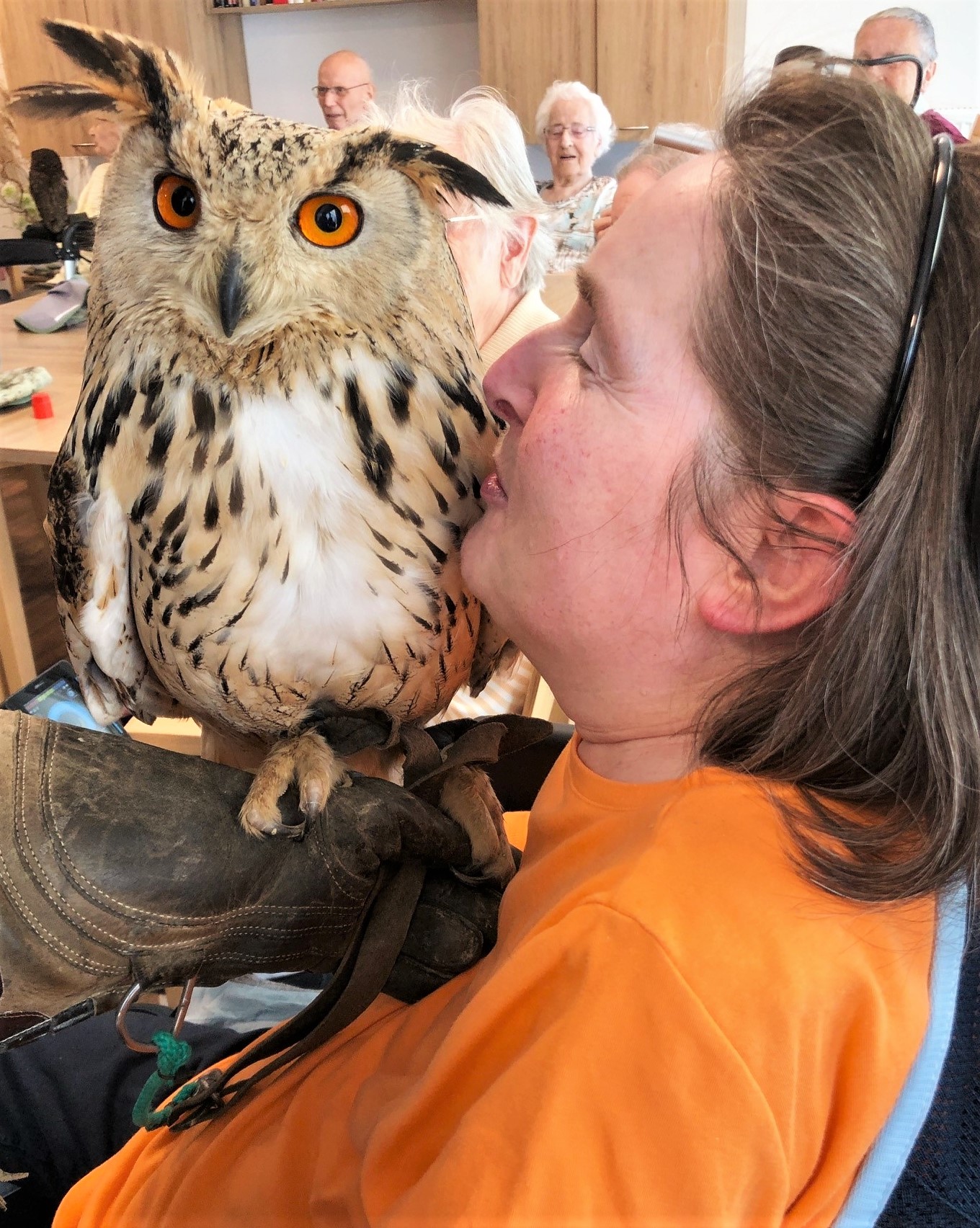 Owls visit the ASB senior citizens' home in Ziegelhausen.
The falconer of hearts inspires people with his therapy birds in the Parkresidenz am Neckar.
(Mannheim/Heidelberg, 25.03.2022) Shoo! The owls are here. The news spreads like wildfire through all the residential groups at the ASB senior citizens' home Parkresidenz am Neckar in Ziegelhausen. Their names are Frodo, Woody, Emma and Mephisto and they are taking hearts by storm. "You can stroke and cuddle them," says Achim Häfner, the falconer of hearts, to the residents. No one is told twice. "They are so sweet," enthuses one resident. The seven-year-old eagle owl Frodo is the largest animal and already weighs considerably more than his smaller buddies. Nevertheless, almost everyone wants to hold and pet Frodo once. An initial shyness is quickly overcome. Even with home manager Linda Müller, "I would never have thought that owls could be so trusting and cuddly," she laughs. It is very important to her to offer the residents of the Residenz am Neckar more than just conventional care. "We do a lot and always have a colorful program for the people entrusted to us," she says, "that's more than just variety in everyday life, it means joy, laughter and active participation in life."
Visit of the therapy birds is a special experience
"The effect of the animals is indescribable," reports Achim Häfner. Above all, dementia patients were also very open to the owls and remembered the encounters for a long time. Achim Häfner has been on the road for over 20 years as a falconer of hearts throughout Germany with his carefully trained animals. In retirement homes, hospices, facilities for the disabled or even kindergartens and schools. Visiting sick or elderly people always touches him especially. "If these people can once again laugh heartily, stroke an owl and enjoy the moment, then a lot has already been achieved," he says. Of course, Achim Häfner can also tell a lot about his owls. For example, that the birds can turn their necks 270 degrees and prefer to eat mice. The residents listen attentively and ask many questions.
Individual care and support in the Ziegelhausen retirement home
Many residents in retirement homes are still suffering from the effects of Corona. For example, many have had significantly fewer visitors over the past two years, and activities have had to be curtailed due to the risk of infection. "Especially in Corona times, it is very important that we offer a varied program," says Linda Müller, director of the ASB senior citizens' home Parkresidenz am Neckar. "The pandemic has exacerbated the isolation and loneliness of many," she reports. The owls' visit will be a topic of conversation for many days to come. "We want to make it possible for the people who live with us to have joy and fun in their everyday lives," Linda Müller emphasizes. "The intensive care and individual support of each person is particularly important to us," she says.
ASB Mannheim/Rhein-Neckar operates five senior citizens' homes, three of which are in the Rhine-Neckar district and two in Heidelberg, as well as a senior citizens' advisory service and offers for outpatient care services, day care and assisted living in Mannheim and the surrounding area. In the "Parkresidenz am Neckar " facility, 75 places are available for fully inpatient care, and 20 apartments are offered in the assisted living sector. The new building, which will be completed in July 2019, has modern and bright rooms, some with a view of the Neckar River. There are spacious lounge areas in each of the six residential groups, and the dining area in each residential group is equipped with an open kitchen. The ASB Mannheim/Rhine-Neckar Region in Heidelberg-Ziegelhausen currently employs 75 people. Fek