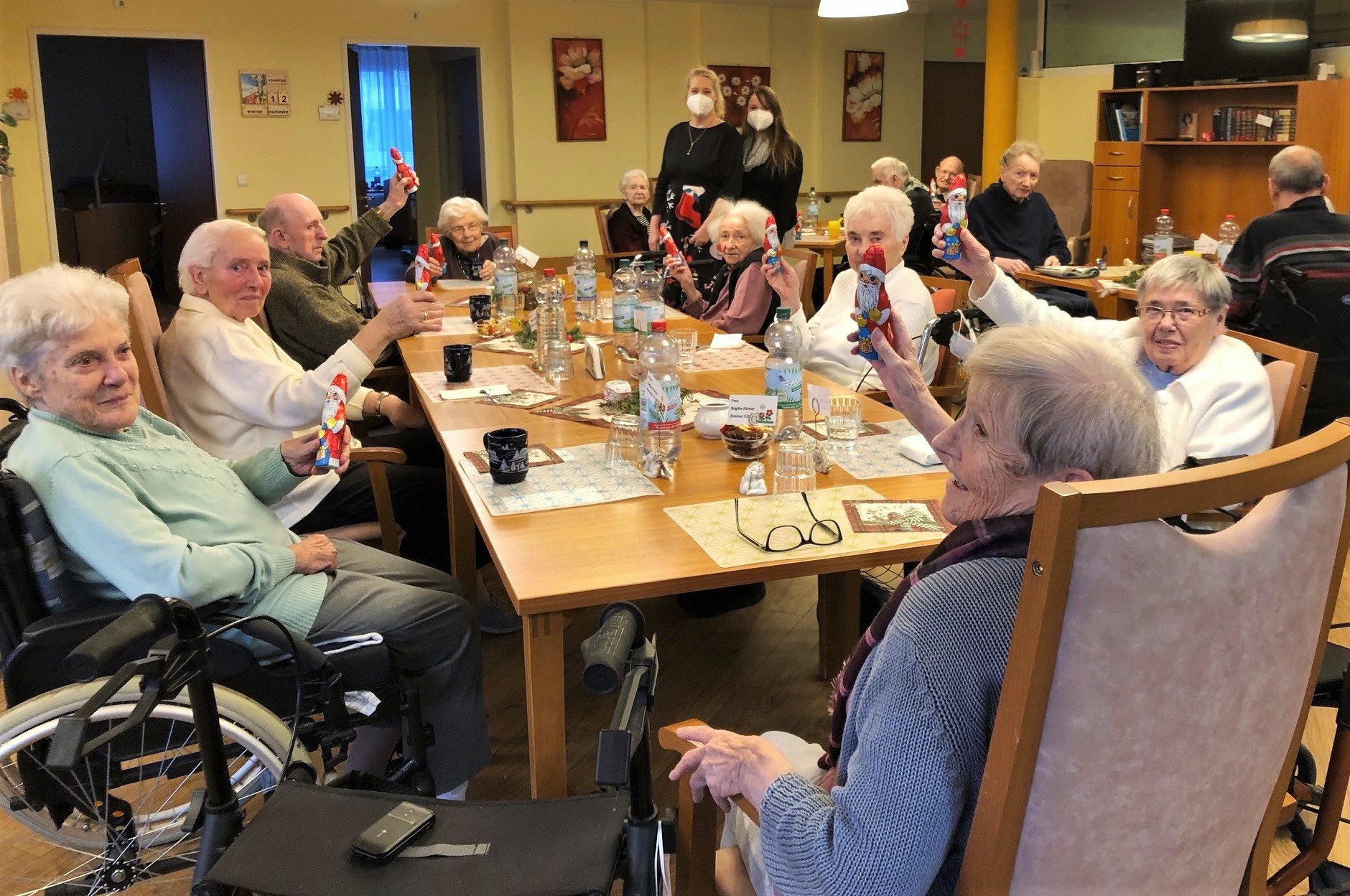 Waffles, mulled wine and Christmas carols
The ASB-Samariterhaus Oftersheim celebrates an Advent festival with residents
(Mannheim/Oftersheim, 15.12.2021) The smell of freshly baked waffles wafts through the whole house. There is also Linzertorte and Christstollen, fine salmon appetizers and whoever wants can also get a mulled wine. "This is so really nice," says one resident happily. A Christmas party under Corona conditions, to be sure, but a welcome change for all the people at Samaritan House. "Especially now, such a celebration is important," emphasizes home manager Janett Hoffmann. "We don't want to leave our residents* alone and offer them something special". The celebration begins in the morning with waffle baking, and in the early afternoon Christmas carols are sung and poems and stories are read.
Small celebration instead of a big shindig
The Advent market directly in front of the door of the nursing home cannot take place again this year. Actually, stalls with delicious delicacies and small gift ideas should now be in front of the entrance area. But due to the pandemic, the Christmas market has been canceled again. At Samariterhaus Oftersheim, Christmas is usually celebrated in a big way. "We always invite a lot of guests then," Hoffmann tells us. For example, a harpist, a puppet theater or the kindergarten. None of that is possible now. All the more important are the little things, like a beautifully decorated Christmas tree, that bring joy.  
Meetings, variety and fun are important in retirement homes
"In our facilities, we attach great importance to care and support with a heart" emphasizes Joachim Schmid, Managing Director of ASB Mannheim/Rhine-Neckar Region. In this context, he says, games and conversations are important in everyday life, and small events during the week are always welcome. In all ASB facilities, there are also regular craft or gymnastics groups and many employment opportunities.
Making visits possible at Christmas time
Especially during the Christmas season, it is important to make visits possible despite Corona. "Isolation of our residents would be almost inhumane," says Schmid, "contact with relatives and friends is crucial for psychological well-being." 
Since mid-November, the Corona Taskforce has been back in action at all ASB Mannheim/Neckar Region facilities. So far, 23 testers have been temporarily employed. This is primarily intended to relieve the nursing staff in the five ASB homes for the elderly. "We have taken quick and preventive measures," says Fabian Kaspar, head of the Corona Taskforce, "so that we are prepared for the new pandemic decrees from the federal and state governments and can react accordingly." In all facilities, people who enter an ASB senior center are tested, regardless of their vaccination status. Testing stations have been set up on site for this purpose and are staffed from 1 p.m. to 5 p.m. each day.
ASB Mannheim/Rhein-Neckar operates five senior citizens' homes, three of which are in the Rhine-Neckar district and two in Heidelberg, as well as a senior citizens' advisory service and offers for outpatient care services, day care and assisted living. In the facility "ASB-Samariterhaus Oftersheim " 74 places for a full stationary care are available, in addition there is a protected range for dementia patients. The four residential groups each offer spacious lounge areas as well as dining areas with an open kitchen. Currently, ASB Mannheim/Rhine-Neckar Region in Oftersheim employs 73 staff. The home was opened in September 2008. fek